The All States Mechanical Contractors annual Christmas party is one amazing occasion where we all have an exciting time.
It's an opportunity for everyone to get together and have fun with friends and colleagues. The Christmas dinner is our way to celebrate unity and shared values.
This year, we hosted the Christmas dinner at Midvale Mining – One of the the All States favorite restaurants. We celebrated the year over prime rib dinner with everyone that could make it, the perfect way to relax and set the tone for fun.
The party was set to start at five o'clock, and everyone was looking forward to having a good time.
We then did the ugly sweater challenge. Josh had a hilarious green Christmas sweater, with Mr.Grinch on it and way awarded the turkey for the ugliest sweater!
Getting Gifts…
Next, it was time for gifts. Everyone that came to the party took home a gift.We had cool speakers, tool boxes, gift cards, etc..It was a lovely moment; the smile on everyone's face was enchanting.
Then for the ultimate price "a 55-inch smart television", everyone had to draw names to determine the winner. It was a close call with lots of suspense. Arturo came out on top and got the smart TV.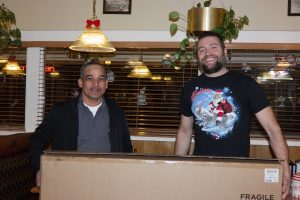 Here's Chuck Zitting presenting it to him on behalf of All States Mechanical.
Then we Gamed…
After dinner, those who wanted to go all out with the fun was picked up buy the Fun Bus and went to the Windover, NV. We had fun gambling, playing Solitaire, Poker and other card games.
Have you ever even see a Royal Flush is real life? How about 2 in a row? Well Steve did just that, had two Royal flashes when playing Jacks or higher and had a awesome win. Add well Ryan and Chuck got some good drinks lol.
There was of laughter and chatting all around; everyone had a wonderful time. Why not, it's Christmas.
We had an awesome time, and yet again, we had another amazing All States Mechanical Christmas party.