We live by the 7 Habits of Highly Effective People. Here is why.
Here at All States Mechanical we are big followers of Stephen Covey's groundbreaking The 7 Habits of Highly Effective People. If you've never read the book, it's about changing your world view to better obtain your goals. The book gives you seven habits to help you achieve success.
Here are the habits.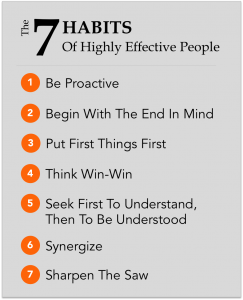 We believe these seven habits make us a better company, and in turn make us a better service provider to you. Here's how.
1-Being proactive is our #1 goal at All States Mechanical. Instead of sitting back and being a reactive participant in a business relationship, we make sure to offer the highest level of communication and strive for perfection in our performance. We do not wait for problems to happen—we have a plan in place before we start the job.
2- We begin each project with the end in mind. We always start with a clear vision on the final product, and maintain an outcome-oriented mindset throughout the project. This comes in the form of meetings, presentations and open communication.
3- Instead of wasting everyone's time and energy, we make sure to put first things first, meaning we start with the most urgent needs, then not urgent but important needs, then urgent but not important needs, and then not urgent and not important needs. Focusing and staying on track is key.
4- In addition to being proactive and keeping our eye on the prize, we think in win-win scenarios. To do this, we employ an extraordinary team of thinkers and listeners. In order to succeed, we must all be on the same page—company AND client. It's all about shared expectation and accountability.
5- Similar to step #4, we seek first to understand, then to be understood. We believe empathetic listening is how we and our customers stay on the same page. We listen to you, and in turn, we hope you'll listen to us. This is a vital step in maintaining a healthy and happy partnership.
6- This next step is where it gets fun—synergize! This is where we all brainstorm and collaborate and bounce ideas off the wall and disagree and revel in the creative energy that comes with synergy.
7- And last but not least, we sharpen the saw. What happens when you sharpen a saw? It only gets better. When we sharpen the best attributes of every member of the project we get the best results.
We understand the value of personal relationships. To learn more about our mission and values, visit us here https://allstatesmechanical.com/our-statement